Video or image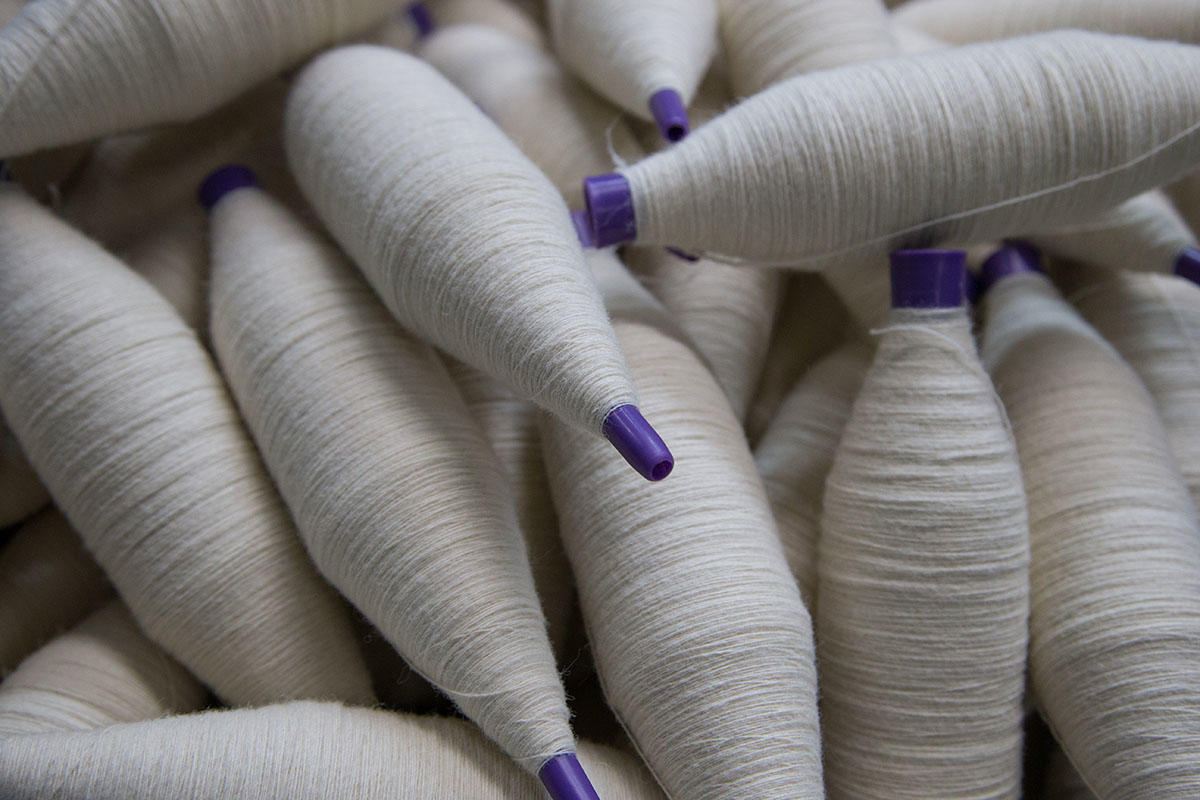 Introducing the Wool Integrity NZ Spinners Club
Many manufacturers do not have their own in-house spinning facilities, so being able to refer them to one of our spinner brand partners, opens the door for those manufacturers to have access to yarn produced in compliance with the Wool Integrity program. We are therefore delighted to have a number of leading spinners on-board as brand partners.

Palle Petersen, GM Bloch & Behrens Wool (NZ) Ltd
Danspin
Danspin is one of the largest woollen carpet yarn producers in the world. They are a Danish company with their spinning mill located in Lithuania. Danspin is 100% dedicated to wool, and sell their yarns throughout the world. 
Having a more transparent supply chain not only gives the consumers more comfort around the finished product, but it also gives us the opportunity to bring the farmer and the manufacturer together, giving both ends of the supply chain the chance to discuss challenges and opportunities they are facing.
It is an absolute privilege to be able to show our overseas customers the beautiful scenery of New Zealand. For them to experience first-hand the dedication and hard work that our farmers put into caring for their animals, and growing quality New Zealand wool, is extremely rewarding.    
In 2015, the owner of Danspin, Lars Pedersen and his Purchasing Manager, Ole Winther, visited New Zealand. They were accompanied by Bloch & Behrens' European Marketing Manager, Hans Bering. 
One of the farms visited was the iconic Mt. Aspiring Station, where they had a taste of Kiwi hospitality from the owners, Randall and Allison Aspinall.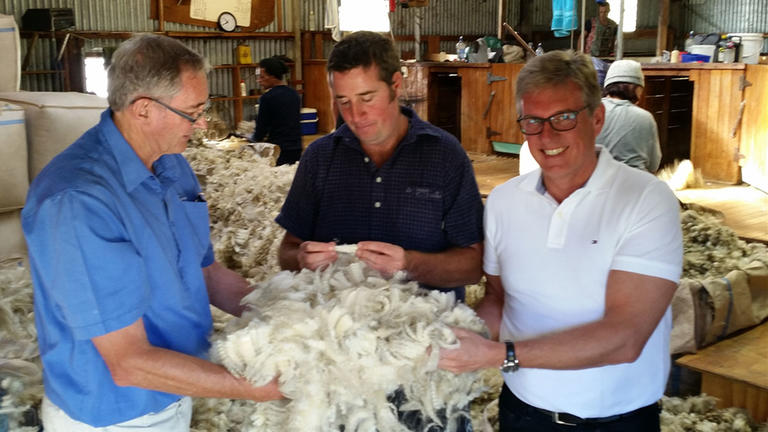 Superdye
Superdye is a Carpet Yarn Spinner and Dyer. They specialize in high-end carpet yarn, and are one of the few spinners who also has a Chem-set facility which allows them to permanently fix the twist in the yarn.
This is a desirable feature in the area of printed carpets which is becoming a popular technique for producing carpets.
Visiting Superdye in June 2017 we got to see first-hand what an impressive operation Filip Tahon has created.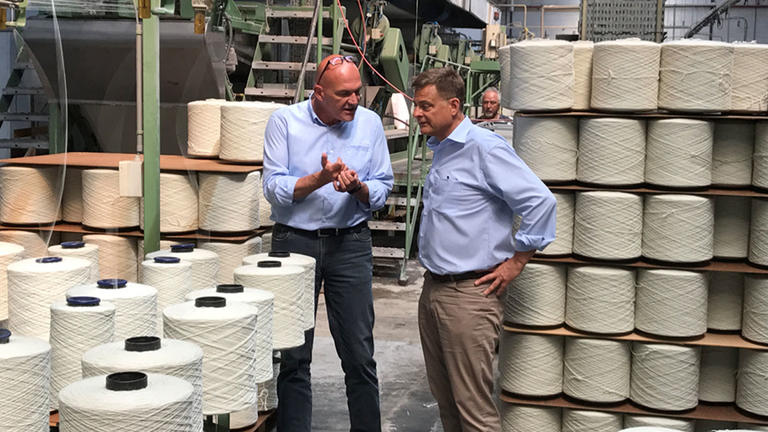 Filatura C4 S.R.L. 
C4 is an Italian spinner located on the outskirts of Florence. They provide a wide range of services, spinning mainly finer yarns for the furnishing and apparel sector. They have a lot of experience with spinning New Zealand lambswool, and they are a valued member of the Wool Integrity Spinner Club, able to be of service to customers outside of the carpet industry.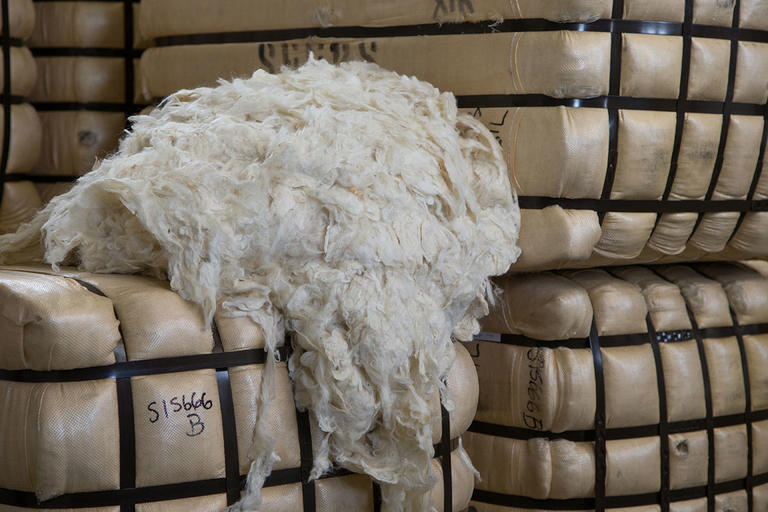 Henrichsens Uldspinderi, Skive Garn APS
Henrichsens Uldspinderi was established in 1885. It remains a family business and is today operated by the 5th generation of the Henrichsen family, Lars Henrichsen Aarø.
They produce hand knitting yarns from only 100% natural fibres of high quality. Their spinning and dying machinery is not exactly new but is still very reliable and safe. 
Their products are mainly sold in Scandinavia although some of their wholesale customers export to other parts of Europe and the USA. 
Lars Henrichsen comments: "As Henrichsens Uldspinderi produces a high-quality yarn to regular customers, it is very important that have a reliable wool supplier who can supply the same high-quality year after year."
Owner, Lars Henrichsen is excited about the Wool Integrity concept, giving him and his customers peace of mind that wool was sourced from sheep farmers who care about the ethical treatment of sheep and the environment. 
"It is particularly important to us that the wool has been visually inspected, and that my wool supplier understands my requirements. This enables them to hand-pick the most suitable wool for me every year. I am sure this is the reason that we always receive wool that lives up to our expectations, and the additional assurances that the Wool Integrity brand offers me is an added bonus."

Lars Henrichsen, Owner of Henrichsens Uldspinderi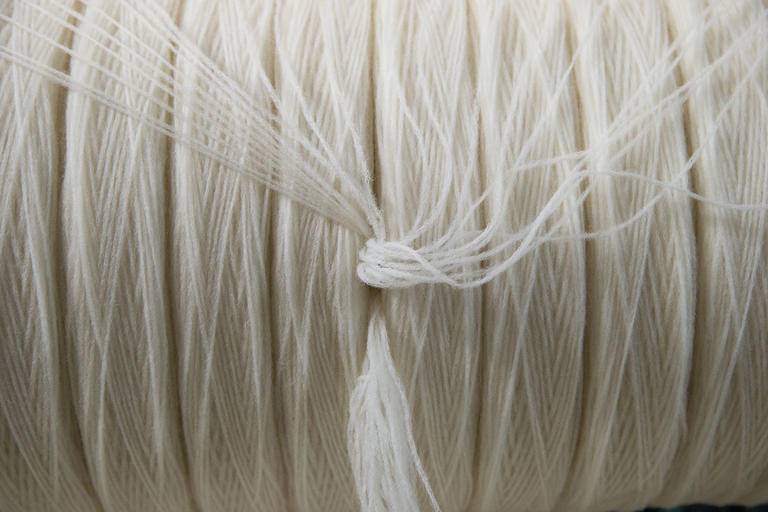 Back to Stories